ENVE - FOUNDATION AM30 WHEELSET
$2,700.00 NZD
$2,700.00 NZD
Item is in stock
Hurry! Low inventory
Item is out of stock
Item is unavailable
Every ENVE Foundation wheelset is hand built in Wide Open's specialist workshop by a craftsman wheelbuilder. Our expertise and precise control over the build process ensure that every wheel we produce delivers the ultimate in performance and reliability.
Not just here for a fast time - it's here for a good time. ​As a one-wheelset quiver for park laps, lunch laps and backcountry epics, the durable-yet-comfortable ride tune of the Foundation Collection's AM30 makes it the perfect fit for your 29" or 27.5" all-mountain ride.
NEW RIM SHAPE, NEW RIDE FEEL
As the experts in crafting and tuning carbon, ENVE carbon wheels have always been fast: they accelerate quickly, blast out of corners, and instil confidence. The AM30, with its unique rim shape and tuned carbon construction, retains this DNA by balancing dynamic attributes like stability, compliance, and impact toughness when the going gets rowdy.
ENGINEERED FOR HUMAN ERROR
With more World Cup podiums than any other carbon wheel brand, we've learned how to make the strongest wheels for the world's best, and as a result - you benefit. The AM30's rim impact toughness is on par with ENVE's class-leading gravity oriented offering.
NO INSERTS REQUIRED
The AM30 helps to prevent pinch flats and ruined rides with our patent-pending Wide Hookless Bead. The Wide Hookless Bead dissipates impact energy, preventing the rim from slicing the tyre. This means you can pick the tires, casings, and pressures you want to run, instead of letting the fear of flats dictate these important decisions for you.
This technology is the result of more than two years' worth of carbon mountain bike rim development, which netted out at a rim shape that features the wider leading edge of the hookless bead. This broad surface spreads the energy from an impact across a greater surface area and creates a more forgiving platform on which the tire can bottom out, proving extremely effective in reducing the likelihood of"pinch" or "snake-bite" style flat tires. Additionally, this means heavy and difficult-to-install inserts aren't necessary to keep your wheels and tires protected.

RELIABILITY FIRST, SERVICEABILITY ALSO FIRST
Our patented process of molding spoke and valve stem holes results in rims that are stronger and lighter. Because carbon fiber gets its strength from continuous fibers, ENVE routes the fibers around the holes without cutting them, which increases the strength of each spoke hole and reduces the likelihood of frequent truing. Strong, light, and maintenance free.
INNER RIM WIDTH OPTIMISED FOR MODERN TYRES
We created the AM30 with a 30mm inner width to pair nicely with modern all-mountain tires rangingfrom 2.3-2.6 inches in width. The 30mm inner width assures tires put their entire width to the groundand don't fold over as easily in corners. In summary, 30mm is the "just-right" inner rim width for themodern mountain biker and the tires we like to ride.
EVERYTHING YOU WANT AND NEED IN A HIGH PERFORMANCE CARBON WHEELSET
With a unique shape and ride-tune, the AM30 balances compliance and vibration damping for all-day comfort, while retaining quick cornering, acceleration, and gravity-rated strength. Offset spoke holes balance spoke tensions to help preserve the wheels' quickness and the spoke's integrity – despite the rim's additional compliance.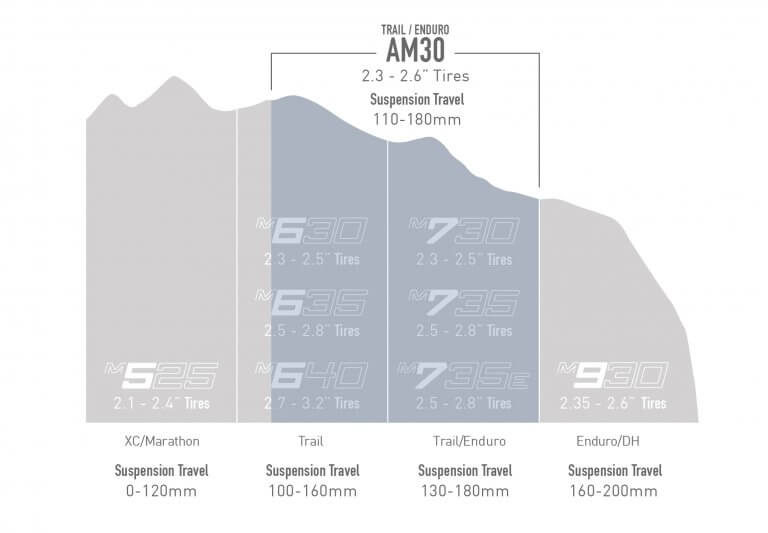 SPECIFICATIONS
DIAMETER: 27.5 & 29"
RIM DEPTH: 18mm
INNER RIM WIDTH: 30mm
HOLE COUNT: 28h/28h
HUB: Industry Nine 101
BRAKE MOUNT: Centerlock
SPOKES: Sapim Race DB
NIPPLES: Brass External
DRIVETRAIN: HG, MicroSpline, XD
RECOMMENDED TIRE WIDTH: 2.3-2.6"
WEIGHT: 1745g (27.5"), 1850g (29")
---
WE'VE GOT YOUR BACK

ENVE Products are designed so that you can ride and race with confidence. As a member of the ENVE family, we've got your back. If something goes wrong, we are committed to do everything in our power to keep you rolling. Please click here for detailed information about ENVE's  Incidental Damage Policy and Factory Warranty
12 Month's Interest Free
---
On all bikes and accessories over $500.
It's easy to apply and only takes a few minutes...
Mount Bikes, Our Promise
---
Respect every rider, respect every ride!
Title Mtb
Shop the latest gear
Free Returns
within 30 days of purchase