GOODYEAR - NEWTON MTF TRAIL - 27.5
Item is in stock
Hurry! Low inventory
Item is out of stock
Item is unavailable
A tyre that feels most at home riding up front while smashing turns, holding grip on off-camber sections, finding that last bit of traction on wet roots, dusty rocks & nasty turns. Progressive block layout limits dirt buildup maintaining performance across a wide range of conditions.
From aggressive trail riding to the demands of downhill racing, the Newton MTF delivers consistent cornering bite, predictable braking control and premium performance in ever-changing conditions. The tread design features ramped center knobs to reduce rolling resistance, while tall, arch-supported side knobs provide fierce braking and cornering grip.
The profile of the Newton range is inspired by the motocross (MX) world. By utilizing a rounder profile for the Newton MTF (front), damping capacity is increased and the tyre footprint is elongated; in the real world, this offers improved straight-line control while providing a greater contact patch for braking. The Newton MTR (rear) maintains a squarer profile and is paired with uniform, closely spaced outer knobs. The tyre's wider footprint offers greater drive traction and confidence inspiring transition between center tread to side knobs.


Available in Trail, Enduro and Downhill specific casing layups. Each casing layup is paired with multi-durometer compounds developed specifically for the tyre's intended application and front / rear use.


The large block tread design of the Newton MTF is optimized for straight-line control, cornering confidence and effective braking. Progressive block layout limits dirt buildup, maintaining performance across a wide range of conditions.


The Newton MTF Trail features our new Dynamic Trail2 compound, a trail-specific, dual density 50/60a compound specifically formulated to balance grip, wear and rolling efficiency.


A single-ply, 60TPI casing construction combines exceptional ride quality with outstanding durability. The Armour Protection casing layer delivers bead to bead cut and puncture protection.


Weight: 1073g (27.5 x 2.5)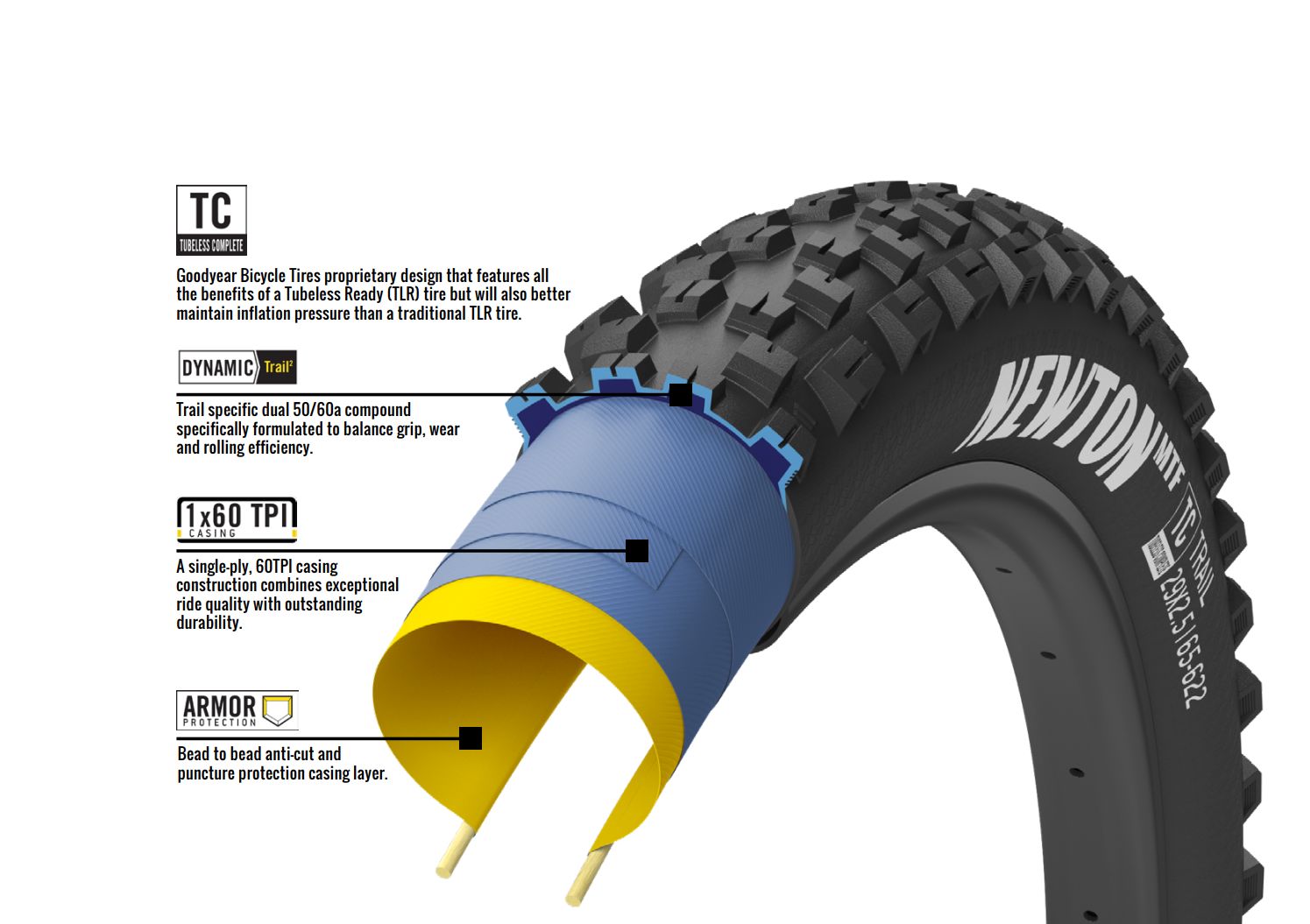 ---
The Story
The Goodyear name first appeared on a tyre — a bicycle tyre, to be precise — in 1898. Since then, Goodyear and the legendary Winged Foot™ logo have been synonymous with victory, dominating the winner's circle across the entire spectrum of motorsports. Goodyear tyres have shouldered heavy-duty work on everything from airplanes to Zambonis. They've rolled on the moon and have helped steer millions of motorists along their journeys.
Now, 120 years after Goodyear's original offering, we welcome a new line of performance bicycle tyres. Developed with Rubber Kinetics, the Goodyear line utilizes refined compounds and casings, each purpose-built for their intended environments.
12 Month's Interest Free
---
On all bikes and accessories over $500.
It's easy to apply and only takes a few minutes...
Mount Bikes, Our Promise
---
Respect every rider, respect every ride!
Title Mtb
Shop the latest gear
Free Returns
within 30 days of purchase